3d printing has been around for a while now. It was discovered in the 1980's by Chuck Hull whilst working for a small firm specialising in tabletop coatings. These coatings were applied to the tabletops and hardened using UV light. Chuck realised that these single layers of coating could be built up, layer by layer to build intricate shapes based on a computerised model. This process become known as stereolithography - a method of 3d printing.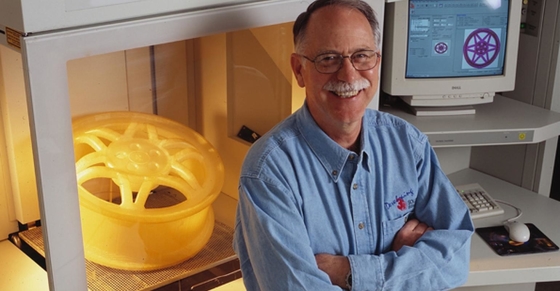 Chuck hull - founder of stereolithography © 3D Systems.
The technology has come a long way since its humble beginnings. At first, the inaccuracy, speed, lack of knowledge and inaccessibility to the technology made it as good as useless. Now however, 3d printing is a $12 billion market and growing year on year. 2017 saw the sale of the millionth desktop 3d printer and the range of technologies and materials is quickly growing.
What does this have to do with the automotive industry?
At current, the margins of improvement are getting smaller each passing year as the automotive manufacturers are finding it increasingly difficult to out perform their competitors and release groundbreaking new technology. The latest performance components are becoming progressively complex in both their material composition and their geometry. Standard manufacturing just can't cut the mustard when it comes to producing these complex parts in a timely manner.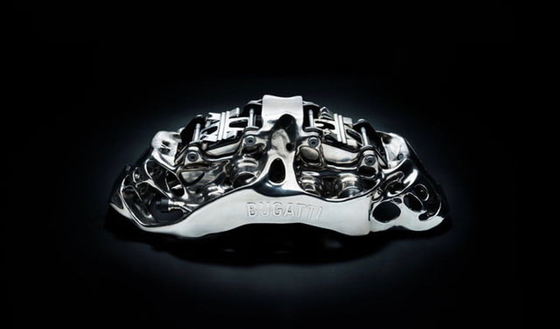 Bugatti 3d printed caliper © 2018 Bugatti automobiles S.A.S
Recently Bugatti unveiled their latest creation. It is said to be the worlds largest functional 3d-printed titanium component - an 8-piston monobloc brake caliper. As can be seen from the image, the geometry of this component is insanely complicated. To create this component using standard machining methods would be incredibly difficult and takes weeks to complete. Using 3d printing (in particular, a process called selective laser melting) this component took just 45 hours to produce. From a prototyping point of view, 3d printing is highly advantageous when it comes to making tricky parts. They can be printed and tested within a few days, if they work, great! If they don't, its back to the drawing board relatively quickly. This is where 3d printing is in a field of its own.
The testing process of performance vehicle parts is also becoming much more rigorous, for both performance verification and safety. When Bugatti decided to test their caliper, they took it to the next level. Placed on a testing rig and tested up to a speed of 249mph, the results are pretty amazing. You can see them for yourself in the video below:
Caliper testing © Volkswagen group
It's not just Bugatti that are taking advantage of this technology. Rolls Royce are believed to have over 10,000 3d-printed components in their phantom models and it's not just new cars that are getting the 3d treatment...Porsche have started to create replacement parts for classic cars using 3d printing - often it isn't practical to use traditional machining for such low volume part production.
It seems the future is bright for 3d printing and the automotive industry, over the coming years as the technology improves even further, it is expected to lead the developments in the industry.